contact I author I references I design I illustration I calendars I photography I car media I noordung e-bike
24th exclusive wall calendar - ALPRA DESIGN 2018:
"Mysterious night ride"

limited, numbered and signed edition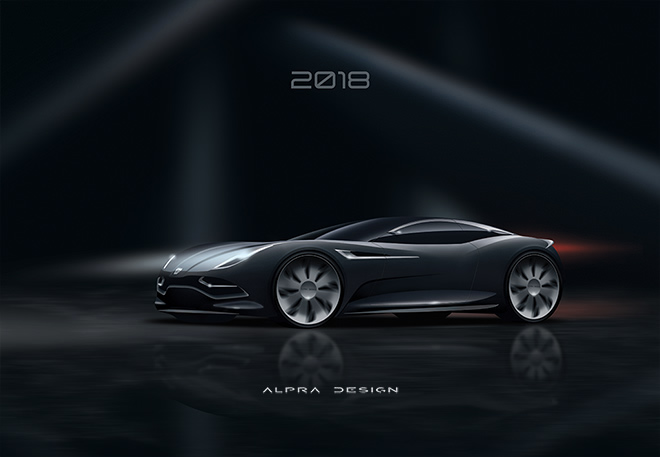 The theme of the ALPRA DESIGN 2018 calendar is "mysterious night ride"


24 years of tradition
First ALPRA DESIGN calendar was published in 1994 by ČZP Voranc (publisher). Since than calendars ALPRA DESIGN became traditional. Their customers appreciate art, design, low volume personalized gifts and most of all - cars! Since their first year calendars ALPRA DESIGN maintained a unique theme - neutral transportation design. During the years, they became calendars for collectors. Each and every year calendars show different design approach. Therefore their regular customers always look forward to be surprised by new editions.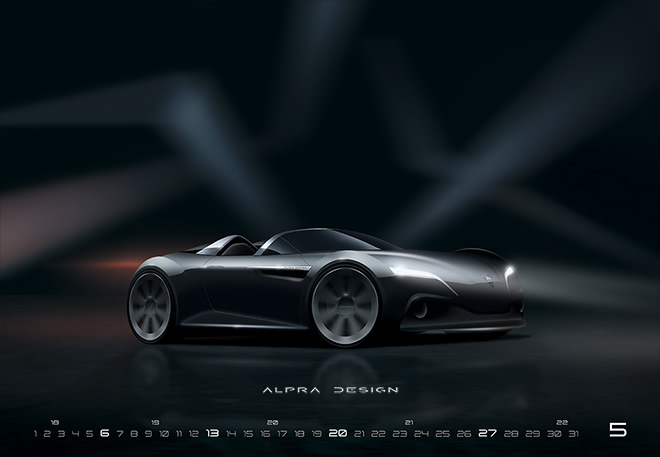 Calendar ALPRA DESIGN 2018
The theme of the year 2018 - Mysterious night ride
The 24th calendar ALPRA DESIGN draws inspiration in joy of driving and listening music. Especially at night, when there are only contours from the surroundings and there is little traffic, concentration can be transferred into driving and enjoying the sounds of the engine and / or music. The car moves through the bluish blackness only slightly illuminated, enough to be recognized, yet still mysterious. Two songs of one of the best singers, Roy Orbison, could describe this calendar: "I drove all night" and "She's a mystery to me".
12 unique neutral car designs on calendar ALPRA DESIGN reach from small cars, through SUVs, limousines, coupes and convertibles, to super sports cars.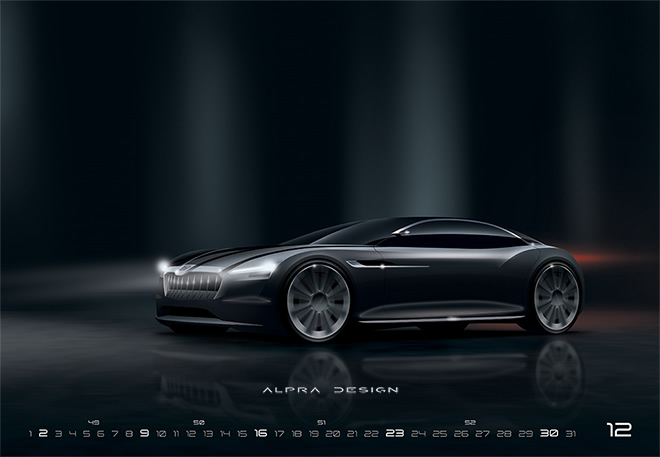 24th calendar ALPRA DESIGN presents 12 unique neutral automotive designs


REVIEWS - Buyers know why they buy ALPRA DESIGN!

ALPRA DESIGN calendars attract specific customers who value the outstanding product, limited series and innovative design. Such a gift expresses respect for quality, design and a glimpse into the future. Most customers remain loyal after their first purchase. Some of them said why:
"Passion, sophistication, exclusivity, unobtrusive appearance that leaves a deep impression. I give these calendars to selected persons who also have such qualities!" Suzana Filipančič, Vice President of Corporate Development, GRAMMER AG.


"I purchase the ALPRA DESIGN calendar every year, because I support this high-quality design product, instead of wasting money for a pile of worthless New Year gifts, as is customary." Irena Hlede, architect, designer, journalist and executive director of the Slovenian Association for Sustainable Building.


"The ALPRA DESIGN calendar is unique and visionary, but at the same time it is very close to us, because it is created from the visions of our nearby Slovenian designer. These visions inspire us that we can also create and achieve our own visions in our work. And although calendars are often a gift for the New Year, this one is so special and exclusive that almost all of the copies given toour business partners, together with personal dedication, occupy an honorable place on the walls of their offices or at home." Vladimir Pogač, CEO, TURNA production and trade d.o.o.


"We have been giving the ALPRA DESIGN calendars to our special partners for many years, because they are distinguished by uniqueness. Low-volume is just an extra plus to stay faithful." Maja Španžel, Head of Marketing, TAB d.d.


"This is not an ordinary calendar. Because: when you first see it and scroll through it, it strikes you and freezes you. It isfascinating! And it's not for everyone. This calendar is for people who need feast for the eyes. Like me." Irma Gnamuš, CEO, ORFIS d.o.o.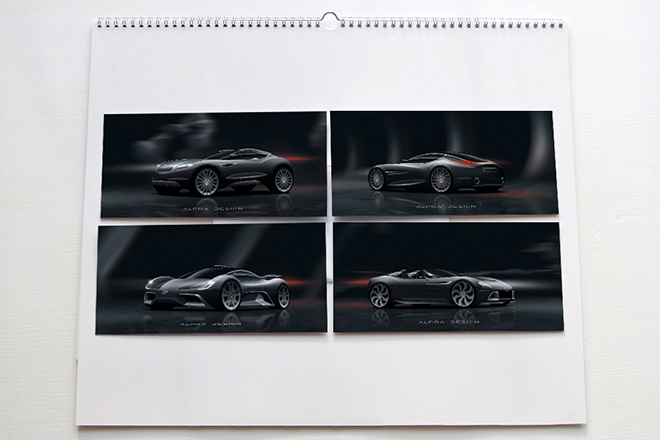 Enclosded with ALPRA DESIGN calendars are ALPRA DESIGN postcards, corresponding with the calendar theme


Calendar ALPRA DESIGN 2018:

• Ideas of future cars by ALPRA DESIGN
• Size: 49 x 34 cm (19,3" x 13,4"),
• Front page + page with a describtion of the theme in five languages + 12 pages + back page with space for buyers company logo (49 x 6 cm)
• high quality 350g and 250g paper and silver print of detail
• calendars are numbered and signed
• each c

alendar is enclosed in a black cardboard box

together with 4 ALPRA DESIGN postcards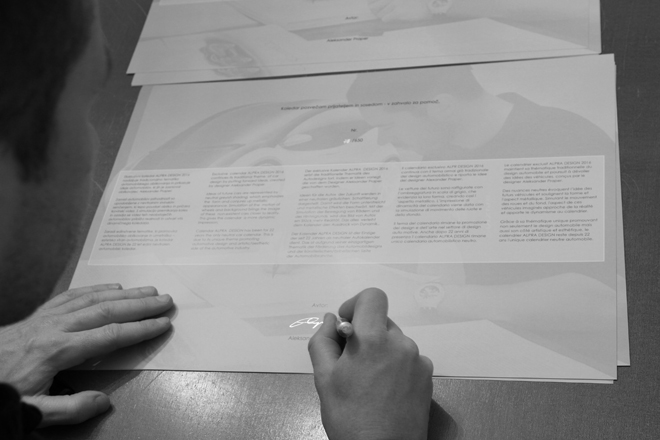 Each copy of the ALPRA DESIGN calendar from limited edition is signed and numbered.
Exclusiveness
Calendars ALPRA DESIGN are exclusive calendars. They combine aesthetics, art of drawing, technical knowledge and designers skills. Their size, print quality and most of all - an exotic theme - place them among rare calendars.
Calendar ALPRA DESIGN 2018 is designed for international use. It is printed on a quality paper (49 x 34 centimeters) and enhanced with a silver logo. Each copy of the calendar is numbered and signed and finally inserted together with four postcards in a cardboard box.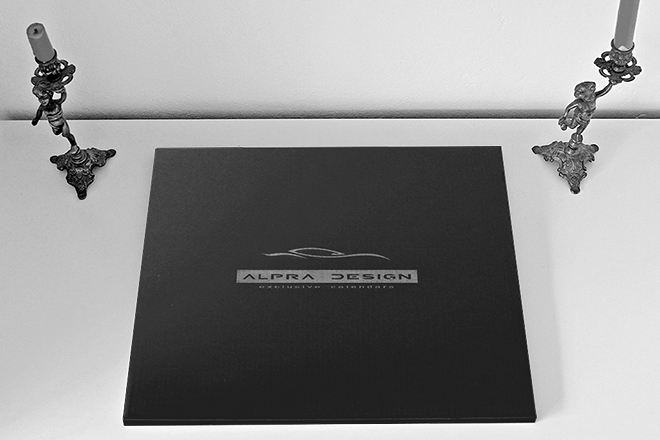 ALPRA DESIGN calendar is finally inserted in a cardboard box, together with four ALPRA DESIGN postcards
Author: Aleksander Praper
Author of ideas, drawings and graphic design is Aleksander Praper. Mr. Praper is a mechanical engineer, designer and an automotive journalist. Combining technical, aesthetic  and practical knowledge, he has a good sense of what good car looks like and the way it works. All that knowledge can be sensed in his designs, which combine classic aesthetic and a great amount of love toward a genuine sports car. Therefore his designs look like cars, not like unfeasible toys from the future.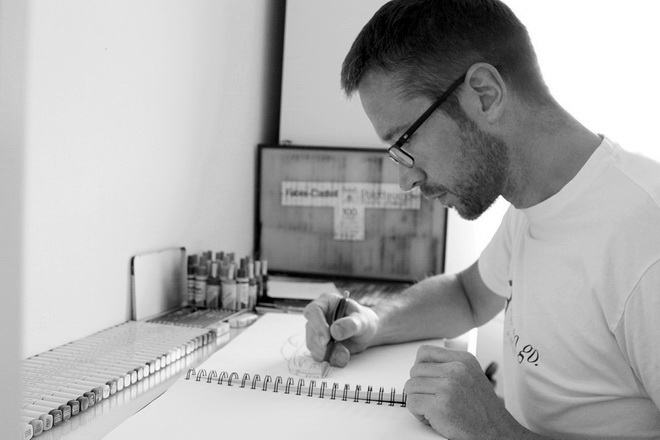 Creating the ALPRA DESIGN calendar always begins with sketchig
Media about calendars Alpra design:
Vsebina spletne strani je avtorsko delo! V skladu z zakonom o avtorskih pravicah je last Praper Aleksandra. Vsaka nedovoljena uporaba vsebine, objavljene na tej strani, je kaznivo dejanje. O možnosti uporabe prispevkov se je potrebno dogovoriti z avtorjem!